Cuba
Hurricane Irma – the strongest storm to strike Cuba in more than 80 years. After pummeling through the Caribbean, Irma made landfall in Cuba on Friday, September 8, 2017 as a category 5 hurricane. With swirling winds of 125+ mph, Irma destroyed houses, ripped trees from the ground, and caused nation-wide power outages. It also resulted in lives lost, which is uncommon for Cuba regarding hurricanes; authorities reported 10 people died as a result of Hurricane Irma. According to The Havana Times, the provinces most affected were Camagüey, Ciego de Ávila, Sancti Spíritus and Villa Clara.
It will take some time for Cuba to fully recover from the damage of Hurricane Irma. However, this has not stopped the forward movement of their spirit. The Cuban government and the Cuban people have been working to minimize any damage and assist the return to normalcy. After the deadly 1963 Hurricane Flora, The Cuban government has developed one of the most extensive hurricane preparedness plans. Cuba's plans of action extended beyond the island too, with the island sending over 750 health workers to Antigua, Barbuda, Saint Kitts, Nevis, Saint Lucia, the Bahamas, Dominica, and Haiti to assist with Hurricane Irma relief.
The Cuban government is subsidizing building materials for families that need to repair and according to the Director of the Electricity Union of Cuba, most of the country's electrical customers have been restored. The pictures of flooding in Cuba that were shared widely online were in low-tide areas that are prone to flooding such as Central Havana and Vedado near the seawall Malecon. The flooding only went five blocks inland; all of Cuba was not flooded with waist-deep water! Diaspora Travel & Trade saw the recovery with our own eyes on our most recent October trip - Cuba is safe and open for visitors. Life in Cuba is moving, and it's moving forward.
We know that there are many people that want to further help Cubans impacted by Hurricane Irma, but are not sure where to put their funds. From international organizations to grassroots efforts, we've compiled a diverse list of places that you can donate to:
Donation Opportunities
Diaspora Travel & Trade
About: We're offering a $150 USD discount on a #DiasporaTravelTrade program when you bring $60 USD in donations w/receipt! This discount applies to all programs/projects for which a deposit has been paid between 11.1.17 - 3.30.18. Below is a list of the recommended items
- OTC medicines (aspirin, ibuprofen, cough syrup, eye drops, cough drops, vitamins etc.
- Toilet paper
- Adhesive bandages, gauze and medical tape
- Soap and lotion
- Shampoo and conditioner
- Toothbrushes and toothpaste
- Hairbrushes
- Bedroom sheets
- Washcloths and towels
- Hair items hairspray hair gel hair ties etc.
- Feminine products
To Donate & For More Info: Please contact Diaspora (info@diasporatt.com) if you are interested in this discount.
MEDICC
About: Founded in 1997, MEDICC (Medical Education Cooperation with Cuba) is an Oakland-based non-profit that promotes US-Cuba health collaboration through its various programs from its documentary ¡Salud! to its health equity journal MEDICC Review.
To Donate & For More Info: Donations can be made online at MEDICC's website. Under MEDICC's priority projects, specify "Help Hurricane Recovery for Cuba and Sustain US-Cuba Cooperation." You can donate here.
Government of Cuba
About: Cuba is governed by a 1 Party Communist system. Cuba has 11+ million people and the current president is Raúl Castro. On Sept. 16, local Cuban press reported that the Cuban government, through the Banco Financiero Internacional (BFI), has set up an account to channel donations from institutions, individuals and solidarity groups that want to contribute to repairing damages caused by Hurricane Irma.
To Donate & For More Info: Cuban journalists suggest that those who wish to make these donations should contact the embassies of Cuba in their respective nation. The embassy of Cuba in the United States is open Monday-Friday from 9am-12pm. Their phone number is (202) 797-8518. We will update this post if we discover another method to contribute to this fund.
Hurricane Irma in Havana, floods, surge ,waves, flash floods, and winds in Cuba
GlobalGiving
About: GlobalGiving is a DC based non-profit that connects donors with grassroots projects. Since 2002, they've raised over $278 million for projects in 165 countries, according to their website. They are an online crowd rising platform to allows people to make tax-deductible donations to non-profit organizations and projects worldwide.
To Donate & For More Info: GlobalGiving set up a Hurricane Irma relief fund for Cuba with a $3 million goal. They have raised over 2 million so far. You can donate here.
Pablo Diego
About: Pablo Diego is a Cuban-born photographer that currently resides in New York. He has been working in the arts and entertainment industry for the past 9 years.
To Donate & For More Info: Pablo started an Indiegogo campaign to fundraise for basic necessities that he will be taking to Cuba. You can donate here.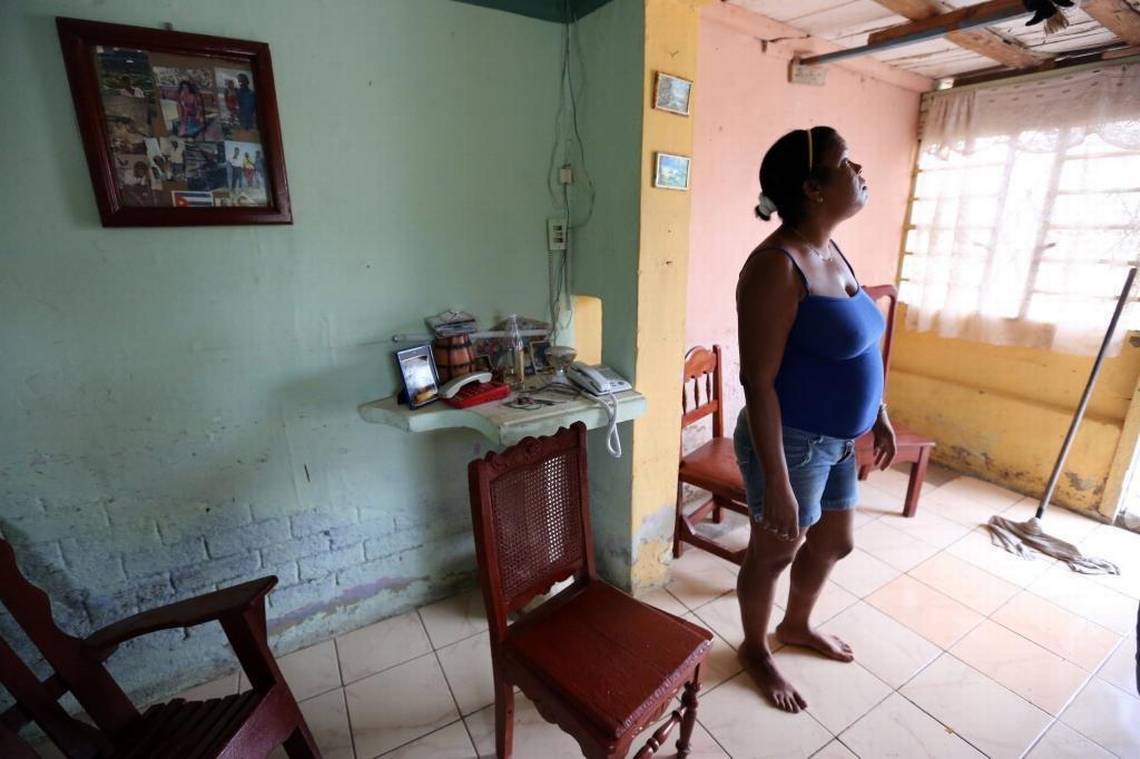 Tamara Valdes lives in the coastal town of Cojimar and worries that Irma could still cause damages to her house."
PC: Emily Michot for Miami Herald
Habitat for Humanity
About: Founded in 1976, Habitat for Humanity is a non-profit housing organization working in nearly 1,400 communities across the United States and in approximately 70 countries around the world.
To Donate & For More Info: You can donate by calling 1-800-HABITAT. They have set up a designated donation page for Hurricane Irma relief in Cuba. You can donate online and give a one-time or reoccurring donation here.
Cuban Actress, Mariela Garriga
About: Mariela Garriga is a Cuban actress living in Los Angeles. Since 2011, she has appeared in a variety of television shows and films including, Law & Order, Miami Beach, and Colpi di fortuna, among many other productions.
To Donate & For More Info: Mariela Garriga, a Cuban actress, started a GoFundMe to raise funds to help buy essential items for Cubans affected by the area facing El Malecon in Havana. You can donate here.